The Grand Café Tortoni — A Classic on Avenida de Mayo
If you are only going to visit one café in Buenos Aires, the Grand Café Tortoni would be a good choice. The quintessential Porteño café, located on Avenida de Mayo was founded in 1858 and has remained the meeting place for famous artists and scholars throughout its 154 years. High profile visitors include Albert Einstein, the King of Spain, Juan Carlos de Borbón, tango great Carlos Gardel and current U.S. Secretary of State, Hillary Clinton.
The building itself is majestic, with its intricate moldings, a $1.4 million Tiffany glass ceiling and marble-topped tables. The waiters are top-notch, if sometimes gruff toward those whom they deem too casual for Tortoni standards — they let it be known that you're at their mercy, at least, they certainly seem to have a presence that commands respect.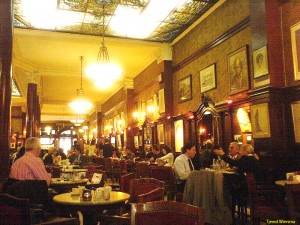 In the salon downstairs there are interesting events, including live radio performances, poetry readings and the very popular tango shows.
Be sure not to miss the historical photos that grace the walls and the backroom where you can play billiards, dice and dominoes.
The café sits just a few blocks from the Casa Rosada, City Hall and other important government buildings, so it's a convenient spot to relax over a coffee if you're doing some sightseeing.
Due to its popularity you may want to avoid going to Tortoni during peak hours (generally after work during the week) — the place can get overrun by tourists and the acoustics can make it hard to hold a conversation.
The food here is slightly overpriced standard café fare. It's not recommended to eat a full meal here, just order a small snack — the churros with a café con leche is a good bet. For the full historical effect, cross the street and catch the historic A train of the subte, with its original antique carriages, to your next destination.

Café Tortoni-$$$
Avenida De Mayo 825
Downtown
Tel: 4342-4328
•Hours: 8:30—1:30am (kitchen closes at 11pm)
• Credit cards accepted
Related posts: